In this short tutorial, we will show you how you can enter and exit the Odin mode also known as download mode.
Odin mode can be seen on Samsung devices and thus is known as Samsung Odin Mode. Its a software used to flash Samsung devices and introduce new and custom ROMs and firmware.
There are tech enthusiasts who use Samsung download mode frequently and some users enter this mode by mistake. In case you enter Odin Fails problem we will show you techniques to recover through this.
First lets, see how you can enter the Odin mode on a Samsung device. We will take Samsung S3 as an example
How to enter Samsung Galaxy S3 in Download mode?
Follow these steps to enter your samsung S3 download mode:
The first step is to switch off your Samsung Galaxy S3 device.
Now press the Home + Volume Down + Power buttons at the same time.
Press the above buttons till you receive a warning message. Once you are done press Volume Up to enter your Samsung Galaxy S3 in Download Mode. Once you enter the download mode you will see a "Downloading… Do not turn off target!!" message on the screen.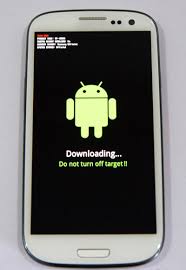 How to exit odin mode?
Its really easy to exit the samsung odin mode. Follow any one step from below:
Press the volume down key to cancel the downloading process and command your device to reboot on the main Samsung Odin mode screen.
In case you are experiencing Odin fail error, press and hold the volume down key and power button together and wait for a few minutes before your device reboots itself.
Lastly, if the above methods do not work, remove the battery from your device and wait for a few minutes and then insert your battery and turn your device back on. This is the simplest method if you have a removable battery.
In case the problem still persists you can use system repair software from your computer to exit the Odin fail screen. Before you do that make sure you backup all your data. Or you can simply visit your Samsung centre to recover the device from the experts.