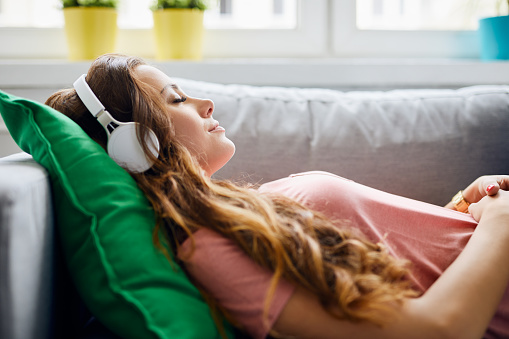 A quality mattress and a good set of pillows can help you get a better and more comfy place for your head to rest, well there are other ways to help you doze off to the dreamland. One such way is using Headphones for sleeping.
The covid-19 pandemic has made adequate sleep schedules and routines even more, harder for people to get enough sleep. If you are finding it hard to get into sleep easily, you may find listening to music, podcasts or soothing sounds before bed help you fall asleep faster.
Why do you need special headphones for sleep?
Why can't you use normal headphones? and why need a special one just for sleep? We get you, you may have thought that if I want to listen to music or ASMR to go to sleep, why can't I use the headphone I already have?
Normal headphones are generally not made for you to wear when you sleep. If you are a side sleeper the regular headphone can hurt your ears. and maybe annoying to sleep. Remember we want headphones to make us sleep and not to annoy us and disturb our sleep 😉
Below are some points you can consider while deciding on which headphones to choose.
Also read : Noise cancelling Headphones for kids.
How to shop for Headphones for sleeping
Following are some specifications you should look for to choose good headphones for sleeping that best suits you.
Adjustability
Headphones for sleeping are designed in such a way they can be cleverly fitted in place, while some of them may be too tight and uncomfortable, you can choose headphones with an adjustable design.
Versatility
Check if apart from sleeping the headphones can be used for other activities or not. For example, you can use the headband headphones for yoga, meditation or other fitness activities.
Incase you want to use your headphones for sleeping, do check if its sweatproof & waterproof.
Noise cancellation
In case you live in a noisy environment, you can consider noise cancellation feature in a headphone. Noise cancelling is ideal for blocking out constant and annoying sounds.
Noise-cancelling headphones are also recommended so that you can listen to music at a lower volume, as your environment sound is cut down through noise cancellation.
Function & Style
Similar to regular headphones, Headphones for sleeping have different types. Each type gives different advantages and disadvantages. Following are different types of headphones for sleeping.
Over-ear: These are large-sized headphones which as the name suggests covers your whole ear.
In-ear: These are basically earplugs and earphones combined. In case you want to go with these type of earphones, be sure not to exceed 60*85 decibels and clean the tips regularly.
Headband: These comfortable headphones work as a sleep mask, as a pair of headphones, and as headphones. You get three functions in one product.
Sleep Mask: Sleep mask headphones have features like eye cavities and nose pads to prevent light from penetrating. These are the headphones that can truly make you sleep.
Comfort and Fit
This is the main thing you should look for in headphones for sleeping. Before buying any headphones read the reviews on the products by other customers and check if they are comfortable or not. You can always order one from Amazon, check if they are comfortable in size, material etc. If not you can always return them if the product is in the return policy terms.
What are some of the benefits of sleeping with Headphones on?
It can help fight anxiety and depression
Helps you fall asleep faster
Promotes Better sleep quality
Promotes relaxation and sleep stimulation
Improve overall sleep health
Below is a quick chart of headphones we think can help you to improve your sleeping cycle and quality. all in one place, so that you compare them easily with other products in the list.
Do let us know in the comments below if you have tried one of these products before, and how they have helped you. These products are recommended and can be set as a bench mark for you to compare with other products.