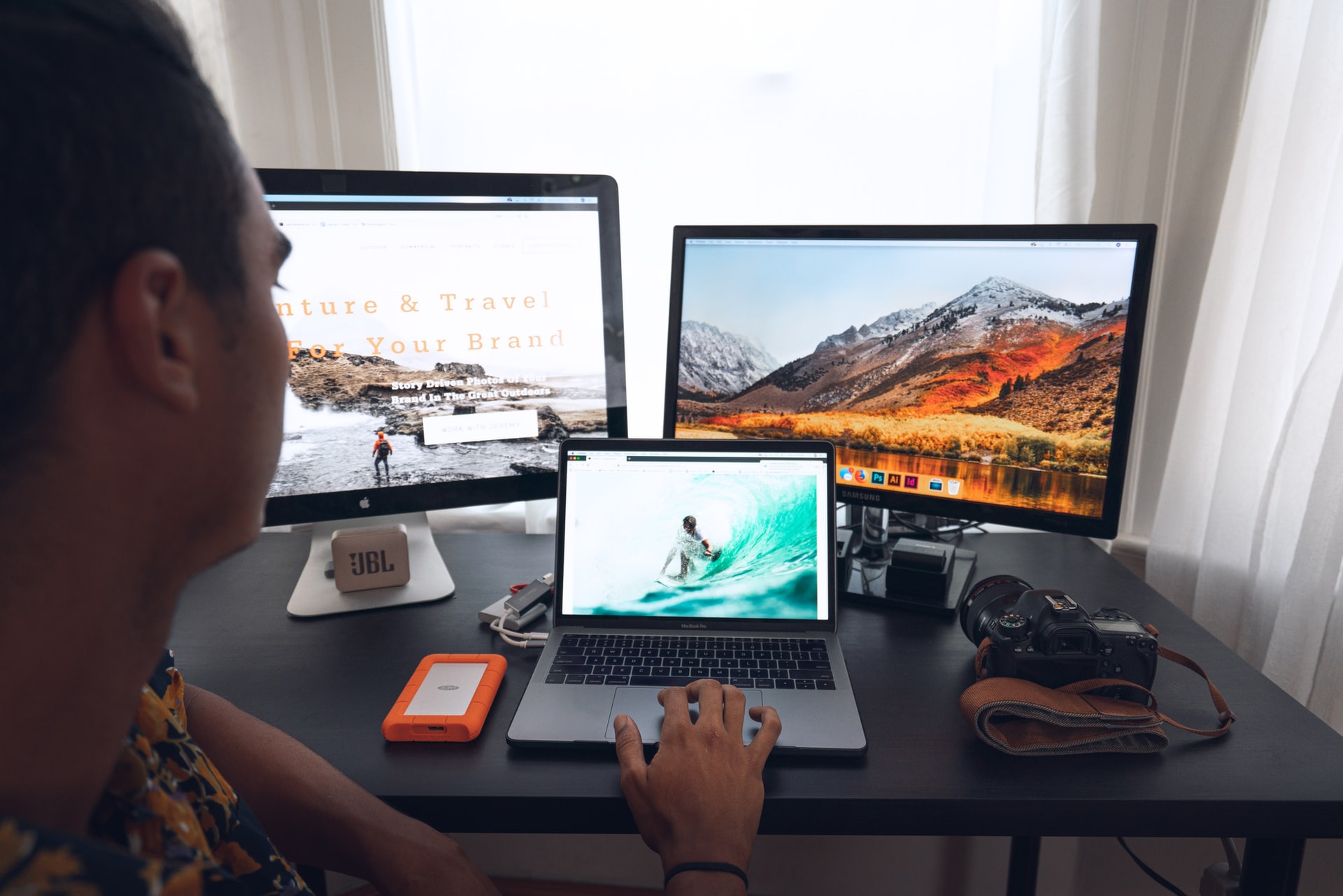 Working on two monitors used to be a lot easier and productive when we were in the office. But now we are stuck at home and with a single laptop. Having two big screens can be helpful but also will need you to work from a single place.
Here's where portable monitors can help you. Technology has made displays less light and more competition has made portable monitors less expensive. From AC adapters to USB-C cables for charging and data a lot has been changed in this field.
Also read: Top 5 Best Gaming Laptops Under $1000 in 2021
Tips to consider for selection of Portable monitors
Before we share the list of portable displays, there are some specifications you have to check before purchasing portable screens.
Size
The size of portable displays matters a lot. You have to choose a screen size on which you can work easily without any pressure on your eyes. You can choose to go for a size bigger than your laptop, which will be a lot helpful.
Although you have to keep in mind to go with bigger screen size, it should also be portable while carrying around. Check it according to bag, backpack, etc which you will be using to carry the monitor around. Potable displays come in a range from 3.5 inches to 22 inches.
WEIGHT
A portable monitor has to be lightweight and easy to carry around. A good travel monitor should weigh less than 3lbs. This won't add much weight to your luggage while travelling.
This depends on the user preference, if you prefer bigger 20 inches and bigger screen size monitors, you may have to compromise on weight. So decide a sweet spot between the weight and size of the monitors.
Connections
Portable monitors require cables to connect to your laptop and P.C. Earlier models had many different types of cables to keep track of.
The latest portable displays come with support for USB-C and HDMI input. HDMI input can easily connect with your laptop and pc without the need of installing drivers. But this may mean you require an extra cable for power.
Whereas USB cables support a Displayport that can work as displaying data/video and charging at the same time. You have to check if the monitor you are purchasing has support with the latest USB, which supports DisplayPort as the earlier USB-C ports did not have this feature of sharing display and power in one cable.
Software and Audio
Nowadays, many portable monitors come with a plug and play option and do not require any software support like drivers to connect. Although you may require to download utilities to use some additional features like changing resolution and monitor settings from your laptops.
Generally, many movable monitors do not have built-in audio support and mainly rely on primary devices audio support. Although some may have a built-in audio output that can be used for gaming and another purpose. But they are often weak and does not give good audio quality.
Other tips that you can keep in check is Resolution of the screen, device compatibility etc.
Best Portable Monitors in 2022
Now that we have a checklist of what to look for in a portable display, here are some of the best monitors you can consider buying.
Let's see each product in detail. We will see the specifications, positives, and negatives of each product below.
Asus Zenscreen Touch MB16AMT 
Best touchscreen monitor for business travellers

Dimensions: 14.2 x 8.9 x 0.4 inches (36 x 22.7 x 0.9cm)
Weight: 900g
Display Size: 15.6 inches
Resolution: 1920×1080 @ 60Hz
Nominal Brightness: 250 nits
Connection Type: USB C, USB-A adapter, micro-HDMI
Positive
Comes with Internal battery
Gesture based multi-touch support
Built-in speakers
Negatives
Colors are somewhat dull
Slightly heavier than its non-touchscreen counterpart
Lenovo ThinkVision M14
Lenovo Thinkvision M14 is best for overall use

Dimensions (incl. stand): 12.7 x 8.2 x 3.8 inches (32.3 x 22 x 9.7cm)
Weight: 598g
Display Size: 14 inches
Resolution: 1920×1080 @ 60Hz
Nominal Brightness: 300 nits
Connection Type: 2 x USB C
Positive
Lightweight and compact
Good color reproduction and brightness
Flexible tilt angles for the screen
USB connection supports Displayport
Negatives
Limited OSD controls
USB C connectivity only
Asus Zenscreen Go MB16AHP
A slim and lightweight laptop that makes it best for overall use.

Dimensions: 14.2 x 8.9 x 0.3 inches (36.1 x 22.6 x 0.8cm)
Weight: 848g
Display Size: 15.6 inches
Resolution: 1920×1080 @ 60Hz
Nominal Brightness: 250 nits
Connection Type: USB C, micro-HDMI
Positive
Built-in battery and speakers
Connects with wide range of devices
Can use cover or pen to hold monitor in place
Asus ROG Strix XG17AHP
A extra-large monitor which has its own power supply

Dimensions: 399 x 250.5 x 10mm
Weight: 1060g
Display size: 17.3 inches
Resolution: 1920 x 1080
Nominal Brightness: 300 nits
Connection Type: USB, HDMI
Positive
Large screen size
Built-in battery
100% sRGB coverage, intense refresh rate
Negatives
Large screen means bulky and heavy in weight
Expensive compared to other monitors
SideTrak Attachable
A portable monitor which attaches directly with the main device side by side

Dimensions: 12.5″ x 8.5″ x 0.7″
Weight: 748g
Display size: 12.5″
Resolution: 1920 x 1080
Nominal brightness: 300 nits
Connection Type: Usb-C, Usb
Positive
Unique attached design
Super portable
Negatives
Expensive for the display size it offers
Slow responsive time
Dim and dull colors
Above was a list of the best portable monitors you can get in our opinion. You can choose the one which fits best for your work. Although there are more options available, we will update the list if we come across a better product.
Do share the review article with others and comment down your thoughts on what you think of the article.