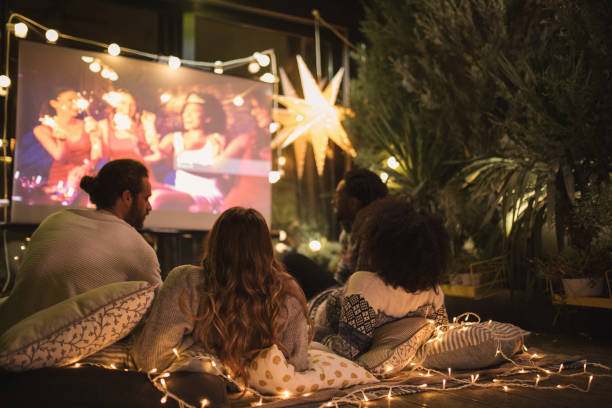 Going to the movie theaters today has become a distant memory. We all had a dream of owning a home theater or an outdoor projector. Today in this review article we will show you a list of the best outdoor projectors you can purchase from.
You may not be able to visit the movie theatre to enjoy movies with friends, but having an affordable outdoor projector capable of offering support for 4K, HDR, and more can be a good investment. Apart from movies, we can enjoy some good memories with family in the backyard, patio, or rooftop.
Whether it is audio quality or best picture quality or may be 3D animations, we have included some of the best outdoor projectors you can choose from.
Before we go through the projectors you can use to binge Netflix on. Lets see some of the shopping tips you can consider while purchasing a projector.
Tips to consider for selection from best outdoor projectors
There are many factors to consider when selecting best portable projector. While researching for this blog we considered following factors.
Resolution
When it come to watching a movie, viewing experience plays a big role. Who wants to watch a 4k movie in 480p. When it comes to a projector only some are capable of producing HD image on the projector screen. Many projectors use a technology known as Downsampling, which means they take a high resolution image and crunch it to lower quality image.
So when choosing a projector, check if the projector produce HD image from a High-definition movie format.
Brightness
The video the projector throws on to the screen may be affected by lights around. Light pollution can make image look dull on the screen. You have to check the lighting condition of your backyard or rooftop or wherever you will be using the projector and purchase a projector that gives a good brightness,
Minimum of 800 lumens of brightness is recommended for a better viewing experience.
Throw Distance
The measure between the projector lens and the screen is called "Throw Distance". If you keep a projector closer to the screen the image will be small, and the further away you take the distance between the two, the larger the image on the screen gets.
There are four types of throw distance you can consider to choose from namely Standard throw, long throw, short throw and ultra short throw.
A standard throw is the most common for projectors. It needs roughly 10 feet to the screen for a 90-inch image (varies depending on the lens and setup type).
A long throw as the name suggests lets you put the projector much farther away for the same screen and projected image size.
The most beneficial throw distance type is short throw that lets you position the projector closer than standard, which is absolutely necessary in a tight space. This means everyone will be sitting behind the projector which means no one can disturb in mid-movie by casting a shadow while standing up.
Lastly Ultra short throw let you put the projector just inches away for the same image size. We recommend you avoid these once for outdoors as to position them while setup itself takes a lot of time.
Ports
The more ports the better. Ports in a projector let you connect mobiles, computers, game consoles, and tablets. Some projectors support WIFI or Bluetooth, which lets you connect them to your phone or other accessories wirelessly. Having multiple types of ports is beneficial to connect different devices.
Additionally, you can check for speakers in a projector if you want one to be built-in. Check if you want the projector to be permanently installed or not. The best option will be to have dedicated external audio speakers added to the projectors.
You can project a video on any flat surface, hanging white bedsheet, garage door, etc, which works fine but having a dedicated projector screen is a must for best image quality.
Another factor to consider while purchasing best outdoor projectors is to check the power source. Some may require power connection while others run on battery.
Now let's have a look at list of best portable projectors below.
Below we have made an easy chart for each product with their features along with positives and negatives.
NEBULA ANKER CAPSULE
An Android powered portable projector

Brightness: 500 ANSI Lumens
Resolution: 854×480
Dimensions: 2.68 x 2.68 x 4.72 inches
Weight: 1.04 lbs
Positive
Good sound quality
Compatible with streaming services
Extremely lightweight
Good battery life
Negatives
Not at best in day time
Remote can be bit buggy
Uninspiring resolution and brightness
BenQ TK850
The best premium outdoor projector you can have

Brightness: 3000 LUMENS
Resolution: 4k UHD (3840 X 2160)
Dimensions: 18.8 X 15.1 X 7.7 inches
Weight: 9.30 lbs
Positive
Amazingly bright image quality
4k & HDR support
Impressive sports mode
Negatives
No streaming apps support
No Dolby vision
Longer impact lag than expected
Vankyo Leisure 3 Projector
A super portable projector that fits in a small case with its accessories and can be carried anywhere

Brightness: 2400 LUMENS
Resolution: 1080p
Dimensions: 7.9 x 5.9 x 3.1 INCHES
Weight: 2.10 LBS
Positive
Compact and Portable
Bluetooth audio connectivity
Good cooling design with quiet fan
Negatives
Terrible built-in speakers
Vertical angle adjustment is manual and no zoom feature
Only two ports for connectivity
Epson EF12 EpiqVision Mini
Laser powered cube that makes big pictures and sound

Brightness: 1000 LUMENS
Resolution: 1080p | Full HD
Dimensions: 6.9 x 6.9 x 5.0 INCHES
Weight: 4.6 lbs
Positive
Impressive audio options
Built-in Chromecast
Laser projector with very good light output for its size
Negatives
Moderate brightness
Too much lag for gaming
Mediocre contrast ratio

Above were some of the best outdoor projectors we recommend you should check out.
Let us know in the comments below which one will you go for and why. Share this blog with others.