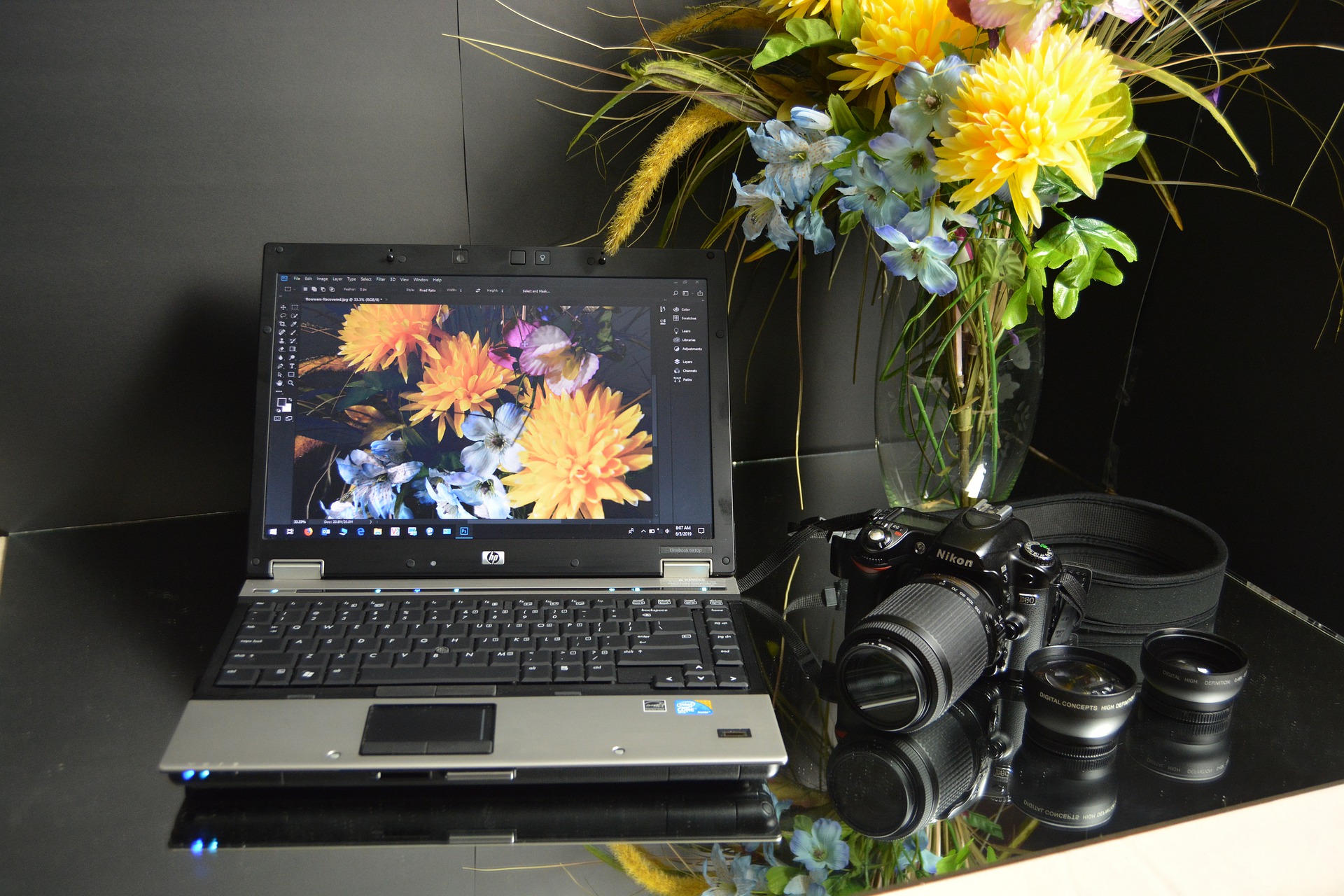 The best laptop for photo editing is not only limited to the best RAM, best Processor, and graphic card. It also consists of an excellent display with high resolution and long-lasting battery life.
Basic photo editing can be done on a mobile device or normal laptop as well, but what makes a full-fledged best laptop for photography different is the display, the power to run heavy software's and space to store huge file sizes.
Why need a laptop, if the job can be done on a desktop computer. The sleek slim notebook can be handy and can be taken with you anywhere. You can take it with you while traveling, or change places to work in a room for better concentration. Which the bid non-portable bulky desktop can not provide. Laptops nowadays offer the same or maybe better configurations as a desktop.
Before we dive deep into the best laptop for photo editing, let's first look at some features that you should keep in check before purchasing a laptop.
Shopping tips for the best laptop for photo editing
These tips will help you choose the laptop that's perfect for your Photography work. Having to look for a specific purpose laptop is easier rather than going for a general-purpose laptop.
Screen size and Display quality
A large screen will make your work easier, as it will make the image clearer and editing high-resolution images on a large display makes you work effectively. Larger screen laptops can be heavy and difficult to carry around. We recommend you to go with 13″ and 15″ laptops.
This depends on your preference, you can go for a 17″ laptop if most of your work is in one place. If you travel most frequently you can go with a medium screen size.
The sRGB gamut coverage tells you how well a laptop can reproduce all colors on the color wheel. It is the range of colors a monitor can display. This is what separates a dull viewing experience from an attractive one. We will use the sRGB color gamut to measure color quality, with 90% being minimum.
These monitors will nearly always utilize IPS technology, which means the monitor will display a clear image from wider/multiple viewing angles, so you don't have to be sitting directly in front of the monitor to view a reliable image.IPS is the option we recommend rather than the TN and VA type of displays. IPS is expensive in this category.
In screen type if you are more comfortable editing with a stylus, you can go with a touch laptop, this is not mandatory but varies on personal choice.
RAM for best laptop for photography
Ram helps you with multitasking. It helps a computer to navigate a way through files and tasks. Minimum 8GB is recommended but if you can go for a better RAM above 8 GB it would be an added benefit and increase the efficiency of the laptop.
You might have noticed this whenever you run multiple programs at once on your old laptop/computer the device gets slow, maybe sometimes break. This is because of the shortage of adequate RAM. So choosing a high-end RAM with 8 GB or more is beneficial if you are a multitasker.
Ports needed for best photo editing laptops
Ports are a number of different types of holes on your laptop that can help you connect to an external device. Laptops may come with ports, including a headphone port, HDMI port, display port, or SD card reader port so you can read your camera's memory cards.
Most common are USB ports for Windows and Linux-operated laptops. Thunderbolt ports for Apple manufactured MacOS laptops.
Ports can be used for different purposes like connecting a tablet for drawing, an extra mechanical keyboard, a monitor for different purposes, and many more reasons. It is advisable to look for a laptop that can connect to external devices like a mouse as they really help in photo editing.
In case you don't find the parts you need in a laptop you really want, you can always purchase adapters for that. So it's not an issue here. But always look for the one built-in because it does not make sense to pay extra for an adapter for ports 🙂
Graphics card for seamless editing
Graphics cards help a lot when you are using heavy software for editing your photos. Graphic cards can help accelerate your work by making the software complete tasks faster.
Well, graphics cards are mainly used by gamers for gaming purposes to run the software fast. If you are also into Video editing it may help a lot while having a dedicated graphic card built into the laptop.
Hard disk for storing your masterpieces
Photos may be of huge sizes. A hard disk or hard drive is the place where all your data is stored. There are mainly two types of hard drives first on being solid-state drives(SSDs) and the second one is hard disk drives(HDDs)
In a laptop for best photo editing, an SSD will make a huge difference. An SSD can manage speeds from 500 MB to 2,700 MB / second. We recommend a minimum of 256 GB of and above
Processor as the brain of Laptop
CPU or central processing unit is often called as brain of a computer and is the main component to consider while choosing a laptop. It instructs the computer to perform the different tasks you command it.
When you use your mouse or keyboard while editing a photo, you basically give the command to the computer, this has to be performed on screen and seamlessly. The more powerful the CPU, the more responsive your computer will be, and the faster you will be able to edit your images.
When it comes to CPUs there are two brands that dominate the current market Intel and AMD. And if you are an Apple user a newly launched processor is waiting for you named M1.
Laptops have low-powered CPUs compared to desktops as they have low room for the fans to cool down the heat produced from the CPUs.
The first thing to look for Core versions of the CPU. In Intel you may have seen the naming version as core i7 9550u, the i7 in the name represents the core version of the CPU. i3, i5, i7, and i9 are types of core versions intel provides for now, the higher the version the better it is. For photo editing laptops core i5 or higher is recommended.
The next part of a CPU is processor generation. Processor generation gives you information about how new the processor is. You may have heard this as Core i5 9th generation. Sow in this example 9 is the processor generation of CPU.
The next parts for a CPU are the processor speed and type. Processor speed gives information on the speed of the processor and type refers to for what type the processor is designed for (product line) and thus its capabilities.
In processor type for photo editing on a laptop, we'd advise at least a "U" category, and ideally an "H" category, or at least a "5" or ideally an "8" for 10th generation chips. The "U" category is a designation for ultra-low power ultraportable notebooks. And "H" designates for high-performance graphics and is optimal.
Above were some of the main factors you may consider while making a decision on a laptop. That being discussed lets dive into the list of best laptop for photography in 2022.
Best Laptops for Photography and photo editing
Let's see each product in detail. We will see the specifications, positives, and negatives of each product.
Apple MacBook Pro (16-inch, 2019)
CPU: Intel Core i7/Core i9 RAM: 16GB/32GB/64GB
GPU: Radeon Pro 5300M/5500M Storage: 512GB/1TB/2TB/4TB/8TB Display: 16-inch, 2072 x 1920
Size: 14.1 x 9.7 x 0.6 inches
Weight: 4.3 pounds
Positive
Improved Magic keyboard
Touch Bar great with Photo editing softwares
Excellent 16-inch display
Negatives
Display is not 4K
Expensive
No touchscreen 
Razer Blade 15 Studio Edition (2020)
CPU: Intel Core i7-10875H
RAM: 32GB DDR4-2933MHz
GPU: Nvidia Quadro RTX 5000
Storage: 1TB SSD
Display: 15.6″ OLED 4K Touch 60Hz, 100% DCI-P3, factory calibrated
Size: 0.70 x 9.25 x 13.98 inches
Weight: 4.9 lbs
Positive
Stunning display
Healthy performance
Negatives
Expensive
Fast graphics card might not be useful for photographers

Acer ConceptD 7
CPU: 9th-generation Intel Core i7
RAM: 16GB – 32GB
GPU: NVIDIA GeForce RTX 2060 – 2080
Storage: 1TB
Display: 15.6″ 4K UHD (3840 x 2160) 16:9 IPS
Size: 14.11 x 10.04 x 0.7 inches
Weight: 6.35 pounds

Positive
Good selection of ports
Powerful Nvidia RTX graphics card
 Microsoft Surface Book 3
CPU: 10th Gen Intel Core i5-1035G7 – i7-1065G7
RAM: 8GB – 32GB 3733Mhz LPDDR4x
GPU: Intel Iris Plus Graphics – NVIDIA GeForce GTX 1660 Ti with Max-Q Design
Storage: 256GB, 512GB, 1TB, or 2TB PCIe SSD
Display: 13.5-inch 3000 x 2000 (267 PPI) – 15-inch 3240 x 2160 (260 PPI) PixelSense Display
Weight: 3.62 lbs
Positive
Excellent build quality
Strong power and amazing performance
2 in 1 tablet and laptop
Negatives
Dull speakers
Weak "U" series processor
Above were some of the laptops we have reviewed and suggested you consider while making a decision for purchase.
Consider sharing this review blog with your colleagues and friends. Comment below your thoughts on the article.