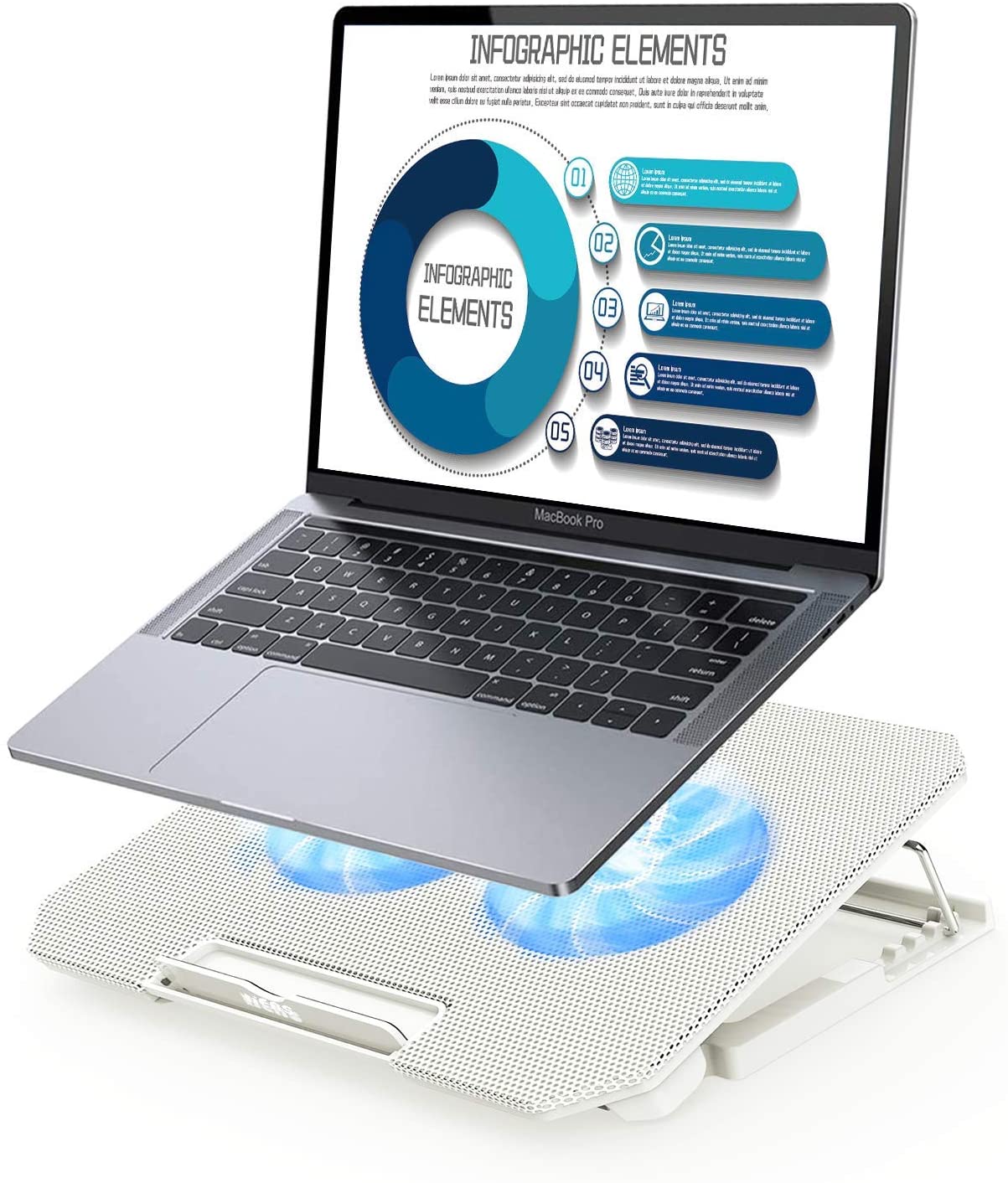 Counter overheating with the best laptop cooling pad. Most Laptop manufacturers are building laptops with the most compact elements to boost performance.
These compact designs may sometimes lead to less air to the CPU. Which may lead to overheating. You may be playing a game or using heavy software for video editing, on your bed, and when the CPU and GPU are being used more, it starts to get hotter, leading to you being uncomfortable and less productive.
Here's where a Laptop cooling pad can be beneficial. They help improve the laptop's ventilation that eventually helps in cooling down the laptop and less heating issues.
Our team of experts has scanned the internet, taking a look at as many cooling pads as we can, making sure they have the best specification, performance, price, customer reviews, and all the other important details that can be taken into account.
We have made a list of the best laptop cooling pads that you can easily make a decision of purchasing directly without much requirement of research and scanning of the internet and review blogs.
Today's Roundup
Before we dive deep into the details of each product, let's have a look at what specifications you should expect from a cooling pad.
Tips to consider for a selection of the best laptop cooling pad
Following are some specifications that can help you in deciding which Laptop cooling pad is good for you.
Size
The laptop cooling pad comes in a set size restriction. While purchasing a cooling pad look for the size if it matches the size of your laptop. Before buying check whether the dimensions of your laptop sit perfectly on top of the cooling pad.
Fans & Noise Level
Cooling pads come with different fans built-in. These fans create airflow and cool down the heat created by the laptop. Sometimes under pressure, the fans can create a lot of noise, which can be a distraction.
The noise level has to be minimal and check that it does not create much disturbance and distraction. Check for Fan size, Fan speed, and pad built quality to be such that the cooling device does its job without any noise.
Height Adjustments and comfort
Some Cooing pads solve one problem that laptops lack that is ergonomics. Some laptop cooling pad comes with the functionality of adjusting heights. Now you can adjust the height of your laptop, according to your comfort.
Some even provide anti-slip feet and front-mounted stoppers that can be an added benefit for a cooling pad.
Now that we have our checklist ready of what specifications to look for the best laptop cooling pad, let's have a look at the products in detail.
Best cooling pads for Laptop
01.
Kootek Cooler Pad Chill Mat 5
Specifications
Fans: 4 x 70 rpm, 1 x 120 rpm
Size of pad: 380 x 300 x 35mm
Positive
Excellent cooling
Six different height settings
Fan controls
Affordable
SPECIFICATIONS
Fans: 2 x 2,500 rpm
Size of pad: 354 x 260 x 25mm
Positive
Comfortable for lap use
Portable
Ergonomic friendly
Negatives
Cooling performance not good compared to others on the list
03.
TopMate C11 Laptop Cooling Pad
SPECIFICATIONS
Fans: 2 x 1250 rpm, 4X 2400 rpm
Size of pad: 354 x 260 x 25mm
Positive
Many modes of RGB support
Six high speed fans
Fan speed and lightening are easy to control
Quiet
Negatives
Some durability issue
No warranty period
04.
Cooler Master Notepal XL
SPECIFICATIONS
Fans: 1 x 230mm
Size of pad: 305 x 379 x 47mm
Positive
Cooling performance is amazing
Nicely quiet
Affordable
Negatives
Limited adjustment for angle
05.
TeckNet N8 Laptop Cooling Pad
SPECIFICATIONS
Fans: 3 x 118mm
Size of pad: 380 x 280 x 28mm
Positive
Most affordable
Decent cooling
Above were some of the best laptop cooling pad you can choose from.
Hopefully, the above assist you with choosing a cooling pad that suits your requirements or if nothing else offers a preview of what's out there to supplement your search on the internet. If you have any inquiries, go ahead and leave us a message in the comments below